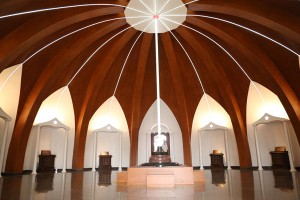 Inside the sanctuary, the visitors step through an intricately carved wooden archway and face the central altar, a three-dimensional Yantra of black and red carved granite, resting on a square wooden base.
A column of light rises from the center of the Yantra to the top of the dome into the pink hub. Once there, it divides into twelve smaller blue rays that descend to the tops of the arches over the altars, illuminating the religious symbols in the arches and shines down onto scriptural quotations resting on beautifully carved rosewood altars inlaid with brass. The entrance and exit have arches, but no altars. One represents Other Known Faiths, and the other represents Faiths Unknown.At night the light shines from the top clear story windows, and from the shrine's base, floodlights bathe the shrine with light. Outside the front entrance of the shrine,on either side, stand two granite angels holding garlands to welcome all who enter.
The concrete walls around the entrance way are covered with polished red granite. Twenty – four pre-cast concrete petals rise from the circular pool surrounding the shrine, which makes the entire LOTUS appear to be floating on the water.
The exterior of the sanctuary is in the form of a lotus flower in its natural colour. The dome above is covered with a sky blue finish.
On the top of the dome rests a two foot clear story of windows over which the cupola, or vimanam is placed. The cupola is eight feet high and is covered with flowered embossed copper sheets with embossed garlands. Above this there is one foot clear story, on top of which stands the six foot spire, or the kalasam, covered in gold.
The Monthly Meeting for July was conducted on 23.07.2017 Sunday and Professor Dr. K. Samuvel gave a talk on Modern world and Spirituality. A gathering of about fifty enjoyed his speech.
Dr.K.S.Sathyamurthi of Sri Balaje Hospital, sulur, gave a talk on duty is the deity (Kadamaiye kadavul), at LOTUS Temple on 31.03.2019. He spoke, How the Duty Without the expectation of reward will make life with full of rewards.
Mr.R.Krishnakumar Value Educator, Ankur Academy, ISKON gave a talk on 'Bhakti Yoga In Bhagavad Gita' on 21.04.2019 in LOTUS. He quoted that we can find solutions for all our wordly problems in Bhagavad Gita
"Speech for may-2019 was conducted on 19-5-2019 and Mr.N.K.Prasath gave a talk on THE LIFE IS A BOON, (VAALKKAI ORU VARAM) . He quoted that, unattached living like lotus flower in water, we overcome life's challenges by living without attachments and gave many more parables."
Tamil scholar and expert in Tamil grammar Mr. Kaliappan who also known as Tholkaappia chemmal gave a Talk on 24.09.2017. He spoke on the first of The Three parts of Thirukkural Virtues with suitable parables. A group of people more than fifty enjoyed the oration.


If you believe in God, you know that God gives you everything that you need and takes away everything that you don't need.
A yogi is like a surfer who knows how to balance on his board. He welcomes even a big rolling wave because he knows how to enjoy it without getting caught in it.
Keep the mind clean, the body clean, the life well disciplined, the heart dedicated. This is Yoga.
Discipline makes your mind stronger and one-pointed. It should ultimately help you make your mind your slave.
Knowing the meaning of the mantram is not even necessary. The faith behind it is more important.
By repetition of a mantram alone, many hundreds of great saints have experienced Divine Consciousness.
Even when you are physically doing something, your aim can be meditation. Focusing your entire mind on what you are doing is meditation.
Spend a few minutes each day in meditation. These are the most important minutes you can spend. You will be able to send out nice, peaceful vibrations, and these vibrations will go around the globe.
If you have total faith in a Higher Will - a Higher Energy - you will be able to tune in to that and receive all the strength and energy to recharge your system.
To become a good instrument of the Divine, maintain your health - have an easeful body, a peaceful mind and a useful life.
Everything and everybody is looking for happiness. But it is not something that has to be brought in from outside. Happiness is already within Us and is to be experienced.
If you want God to come in, make room.