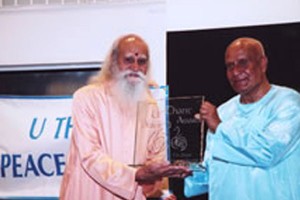 1950 Honorary Title of Yogiraj (King of Yoga) awarded by H. H. Sri Swami Sivananda, Yoga Vedanta Forest Academy, India.
1961 Medal of Honor from the Manila Yacht Club.
1967 Martin Buber Award for Outstanding Service to Humanity, The Little Synagogue, New York.
1969 Medal of Honor from the City of Verona, Italy.
1969 Medal of Honor from the Academy of Tiberina, Rome, Italy.
1970 Presented with Key to the City and named Honorary Citizen of Rayol-Canadel District, France.
1974 Peace Award by Chennai Branch of UNESÇO, India.
1975 Presented with Key to the City of Orlando, Florida; March 8, 1975, was proclaimed by Mayor asSwamiSatchidananda Day.
1976 Honorary Fellow of Concordia University; Montreal, Canada.
1977 Fellow of the College of Human Sciences, International Institute of Integral Human Sciences; Switzerland.
1981 Fellow of World Thanksgiving Foundation; Dallas, Texas.
1982 Honorary Doctorate of Humanities, International College of Spiritual Sciences; Montreal, Canada.
1982 Presented with Key to the City of Varredes, France.
1983 Honorary Title of PerarulPerumunivar (Grace-filled, Great Sage) by His Excellence Sri Kaurana, (then) Governor of Tamil Nadu, India.
1983 Honorary Citizenship of the City of Baltimore, Maryland.
1984 Honorary Degree, Doctor of Divine Wisdom; The New Seminary, New York.
1984 Fellow of the World Vegetarian Congress, England.
1986 Evarts Loomis Peace Award of the Samata Institute; California, in recognition of Outstanding
Achievement and superior service in the field of holistic health.
1986 Humanitarian Award of the Anti-Defamation League of B'nai B'rith.
1990 Honorary Patron of the BharatiyaVidyaBhavan International, Mumbai, India.
1990 Unity in Yoga Award for World Service, Unity in Yoga.
1990 Golden Lotus Award for Outstanding Achievement, International Yoga Academy; Argentina.
1990 Outstanding Achievement Award, International Yoga Academy; Argentina.
1992 New World Academy Luminary Award; New World Academy, England.
1993 The Albert Schweitzer Award, Albert Schweitzer Foundation; Austria.
1994 Hindu of the Year Award, from Hinduism Today, Hawaii.
1996 The Juliet Hollister Interfaith Award, presented at the United Nations. Other recipients include: H. H. the Dalai Lama, Nelson Mandela, Queen Noor of Jordan, and Pandit Ravi Shankar.
2002 U Thant Peace Award, presented at the Interfaith Center of New York by the Peace Meditation at the United Nations. Other recipients include: Nelson Mandela, Mikhail Gorbachev, Pope John Paul II, Mother Teresa, the Dalai Lama, Desmond Tutu and Dada J.P. Vaswani.

If you believe in God, you know that God gives you everything that you need and takes away everything that you don't need.
A yogi is like a surfer who knows how to balance on his board. He welcomes even a big rolling wave because he knows how to enjoy it without getting caught in it.
Keep the mind clean, the body clean, the life well disciplined, the heart dedicated. This is Yoga.
Discipline makes your mind stronger and one-pointed. It should ultimately help you make your mind your slave.
Knowing the meaning of the mantram is not even necessary. The faith behind it is more important.
By repetition of a mantram alone, many hundreds of great saints have experienced Divine Consciousness.
Even when you are physically doing something, your aim can be meditation. Focusing your entire mind on what you are doing is meditation.
Spend a few minutes each day in meditation. These are the most important minutes you can spend. You will be able to send out nice, peaceful vibrations, and these vibrations will go around the globe.
If you have total faith in a Higher Will - a Higher Energy - you will be able to tune in to that and receive all the strength and energy to recharge your system.
To become a good instrument of the Divine, maintain your health - have an easeful body, a peaceful mind and a useful life.
Everything and everybody is looking for happiness. But it is not something that has to be brought in from outside. Happiness is already within Us and is to be experienced.
If you want God to come in, make room.