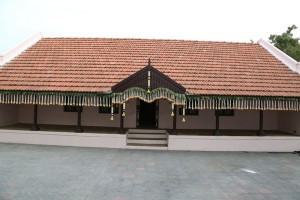 The ancestral home and birthplace of Sri Swami Satchidananda was built by Gurudev's father more than 100 years ago.The home is a traditional, simple village house with interior tanks for rainwater encachement. A meditation hall and photo exhibition occupies the central hall. Located in Chettipalayam via Podanur, Swamiji's birthplace has been converted to a shrine, "Satchidananda Alayam."
Swamiji's father, Sri Kalyanasundaram was a born intellectual, interested in Tamil language and was also talented in composing the poetic language of Tamil literature known as "chitra-kavi," a type of metrical composition fitted into fanciful figures. He also wrote many valuable books on Lord Muruga and Lord Shiva. This home therefore became the center of many literary debates and discourses. The citizens of Coimbatore appreciated the services of Sri Kalyanasundaram and felicitated him with many titles. Sri Sivananda Saraswati Swamigal honoured him with the title "KaviChoodamani."
Swamiji's mother, Srimati Velammai was the devoted wife of Sri Kalyanasundaram. She always respected the spiritual seekers and personally took care of all their needs. She respected the saints and sages who visited her home because she believed they were all forms of Lord Shiva. She was always filled with motherly love, dedication and respect for the yogis.
Srimati Velammai learned the basic truths of religion from Sri Sadhu Swamigal, worshipped the Lord Surya (the sun deity), and observed austerities including fasting. To brighten her life, a divine son was born on 22 December 1914, during the Christmas week. This unique child was named Ramasamy. He is now known as the great yogi, Swami Satchidanandaji Maharaj.
Thus memories of Swamiji's childhood home always stayed in His heart, and he frequently mentioned them in His discourses throughout his life.

If you believe in God, you know that God gives you everything that you need and takes away everything that you don't need.
A yogi is like a surfer who knows how to balance on his board. He welcomes even a big rolling wave because he knows how to enjoy it without getting caught in it.
Keep the mind clean, the body clean, the life well disciplined, the heart dedicated. This is Yoga.
Discipline makes your mind stronger and one-pointed. It should ultimately help you make your mind your slave.
Knowing the meaning of the mantram is not even necessary. The faith behind it is more important.
By repetition of a mantram alone, many hundreds of great saints have experienced Divine Consciousness.
Even when you are physically doing something, your aim can be meditation. Focusing your entire mind on what you are doing is meditation.
Spend a few minutes each day in meditation. These are the most important minutes you can spend. You will be able to send out nice, peaceful vibrations, and these vibrations will go around the globe.
If you have total faith in a Higher Will - a Higher Energy - you will be able to tune in to that and receive all the strength and energy to recharge your system.
To become a good instrument of the Divine, maintain your health - have an easeful body, a peaceful mind and a useful life.
Everything and everybody is looking for happiness. But it is not something that has to be brought in from outside. Happiness is already within Us and is to be experienced.
If you want God to come in, make room.