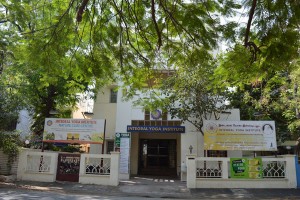 Integeral Yoga Institute Coimbatore is functioning since 1974. It is situated in R. S Puram, Coimbatore
The Institute has daily yoga sessions in Beginner's Level I and II, Morning, Mid-day and Evening. They also conduct classes in Pre-Natal and Yoga, Elders and Children, as well as Yoga Therapy. During holidays, children have daily yoga sessions and summer camps. It undertakes private and group classes at various institutions and corporates.The facility includes a library, book stall and a health food store.
A Nature Cure Center offers consultations and treatment for various ailments. Yoga therapy classes are offered for patients after consultation with the doctor. It has a Saathvik health food center, massage, steam bath and other therapies.
The Institute offers part time and full time Teacher Training, Private Teacher Training courses at the Beginners level, Prenatal Yoga, Yoga Therapy and a Massage training course. Every year a Teacher Training course in Yoga for Special Child is offered by Ms. Sonia Sumar, Founder YSC, Florida, USA. Raja Yoga courses are taught by Ms. Nalanie Chellaram from Integral Yoga Gibraltar every alternate year.
Yoga based programs on Wellness Lifestyle, Stress Management, Health Management, Wellness Counseling, Pranayama and Health Retreats are organized periodically.
The Integral Yoga Institute premises contains five guest rooms, each with two beds and an attached bath. These are available for those who want to fully immerse themselves in the experience of Yoga. Two hatha classes are offered each weekday for guests. Rejuvenation programs that include detoxification, skin &hair care and massage can be opted for during one's stay at special prices.
For those who are serious seekers and who wish to walk the path of service to God and humanity, IYI provides both guidance and a conducive environment.
For those who seek to live by spiritual values, guidance and counselling is offered by members of the Integral Yoga Institute. For those facing emotional or family problems, private counselling is available.
Being in the heart of the city, the Institute is easily accessible to one and all. The yoga classes are known for their simplicity. The Integral Yoga Institute works towards achieving Swamiji's teaching of making it possible and affordable for everyone to attain an Easeful body, Peaceful mind and Useful life.

If you believe in God, you know that God gives you everything that you need and takes away everything that you don't need.
A yogi is like a surfer who knows how to balance on his board. He welcomes even a big rolling wave because he knows how to enjoy it without getting caught in it.
Keep the mind clean, the body clean, the life well disciplined, the heart dedicated. This is Yoga.
Discipline makes your mind stronger and one-pointed. It should ultimately help you make your mind your slave.
Knowing the meaning of the mantram is not even necessary. The faith behind it is more important.
By repetition of a mantram alone, many hundreds of great saints have experienced Divine Consciousness.
Even when you are physically doing something, your aim can be meditation. Focusing your entire mind on what you are doing is meditation.
Spend a few minutes each day in meditation. These are the most important minutes you can spend. You will be able to send out nice, peaceful vibrations, and these vibrations will go around the globe.
If you have total faith in a Higher Will - a Higher Energy - you will be able to tune in to that and receive all the strength and energy to recharge your system.
To become a good instrument of the Divine, maintain your health - have an easeful body, a peaceful mind and a useful life.
Everything and everybody is looking for happiness. But it is not something that has to be brought in from outside. Happiness is already within Us and is to be experienced.
If you want God to come in, make room.